Her Royal Highness Princess Lalla Hasnaa, Chair of the Mohammed VI Foundation for Environmental Protection, member of Med-O-Med Network, presided last March 6, 2017, the awards ceremony of the second edition of the Lalla Hasnaa Littoral Sustainable Awards at the Mohammed VI International Conference Center In Skhirat, Morocco.
The trophies reward remarkable actions for protecting the coastline. Five awards categories are open to an entire spectrum of actors involved in protecting, preserving, educating or conducting outreach about the coastline, such as civil society associations, coastal communities, private companies, the public sector, students, teachers-researchers, etc…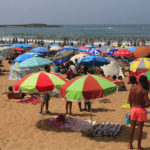 Participation in the second Lalla Hasnaa Sustainable Coast Awards was markedly increased, with 109 candidacies submitted. This enthusiasm reflects a true commitment to environmental protection by the entire public with whom the Foundation has been working to raise awareness and educate since its creation in 2001. The jury, comprised of personalities and independent actors engaged in coastal protection, awarded 18 awards for the five awards categories.
All the winners reflect the diversity of Moroccan society, which is increasingly committed to environmental issues through concrete and effective actions.
Complete list of winners of the Lalla Hasnaa Sustainable Coast Awards
This post is available in: English Español