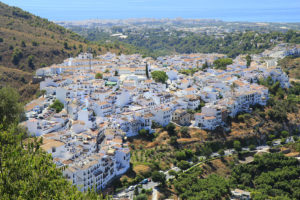 FUNCI has been invited to participate at the 3 Cultures Festival which takes takes place every year in Frigiliana, the main town in Axarquía, a region within the province of Málaga, by means of the presentation of the book "El enigma del agua en al-Andalus" (The enigma of water in al-Andalus) of Cherif Abderrahman Jah and the short documentary entiled "Las voces del agua" (Voices of water).
Both works tackle the al-Andalus water-related heritage from a historical and environmental point of view. They were previously presented in Madrid last spring at the Istituto Europeo di Design. Likewise, both works form part of the Programme Med-O-Med, cultural landscapes of the Mediterranean and the Middle East, aimed at not only recovering the legacy of that fabulous culture, whose mark has survived in many Spanish regions, but also its conservationist and environmental-friendly spirit as a method of subsistence and spiritual welfare.
The festival is the perfect pretext to walk round the streets of this strong moorish flavor town that, nestled at the foot of the mountain and facing the Mediterranean Sea. Its several passageways, ramparts and ravelins, form a purely Andalusí structure consisting of a complex urban pattern made up by little houses arranged one on top of another.
During the 3 Cultures Festival, theatre shows, concerts, street markets and conferences will be featured.
"El enigma del Agua en al-Andalus" ("The enigma of Water in al-Andalus") and "Las voces del agua" ("The voices of water") will be presented on Saturday 25th at 17.30h in the" Casa del Apero", a landmark building in the town.
We are waiting for you all!
More information: Frigiliana 3 Cultures Festival
This post is available in: English Español