Dunas del Odiel. RAJBEN, SPAIN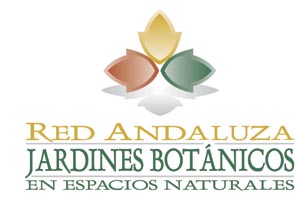 Name: BOTANIC GARDEN DUNAS DEL ODIEL
Address: Road N-442 Huelva-Mazagón, Km 13.7, 21810 Palos de la Frontera, Huelva, Spain
Phone: 671563436
Website: http://www.juntadeandalucia.es/medioambiente/servtc5/ventana
Email: jbotanico.dunasodiel.cmaot@juntadeandalucia.es
Opening hours: October to June: Tuesday to Sunday (10:00 a.m. to 4:00 p.m.).
June to September: Tuesday to Sunday (9:00 a.m. to 2:00 p.m.).

Closed: Mondays and 1 May, 24 and 25 and 31 and 1 December.
Institution: Public
Director: Consejería de Medio Ambiente y Ordenación del Territorio (CMAOT). Carmen Rodriguez Hiraldo.
Facilities:

Las infraestructuras asociadas al jardín son: un Aula -Taller, Aseos, Almacén de Jardinería, Umbráculo, Laboratorio, Punto de Información y la Oficina.

Number of Species:

236

Conservation programmes: 1) Localization and monitoring of protected, threatened, endemic and rare flora and fungi taxa present in the Andalusian territory.
2) Collection of seeds and other propagules, of the taxones object of work, destined to:
-Development of germination and establishment protocols.
-Representation in the different botanical gardens and Mycological.
-Conservation at the Andalusian Plant Germplasm Bank
-Activities of reintroduction or population reinforcement in the middle.
3) Representation of the vegetation, flora and mycoflora that characterize the diverse Andalusian biogeographical sectors.
4) Maintenance of conservation collections and genetic rescues.
5) Participation in the development of Recovery Plans approved by the Ministry of Environment and Land Management, in this case, two of the four plans currently approved: Pteridophytes and Sand Dunes.
Research Programs:

1) The collections of botanical and mycological gardens as a tool for the development of scientific studies, since they offer genetic material from very remote locations in nature and. Research centers such as the CSIC, other Botanical Gardens, private Foundations, Companies and different Universities, rely on the equipment and means offered by the Network for the development of projects framed in different areas.

2) Collaboration with the Spanish Society of Biology of Plant Conservation (SEBICOP), in the SEFA Project (Monitoring of Endangered Flora Species and Special Protection in Spain).

3) Research concerning the status of 70 species of the annexes of the Habitats Directive, the Spanish Catalog or the LESPRE.

Education Programmes:

The main actions are the following :

• Aldea Program, a program developed in collaboration with the Ministry of Education, whose objective is to promote the development of educational initiatives for the preservation of natural resources and the promotion of sustainable development within the Andalusian educational community, in order to contribute to a more pro-environmental, in a solidary society, allowing the achievement of an integral education, which is based on the four educational pillars proposed by UNESCO: Learning to be / Learn to live / Learn to know / Learn to do.

• Training courses for professional sectors that require technical training on threatened flora and interest.

• Activities and workshops with different themes and levels aimed at all types of public as a way of approaching Andalusian floristic values: photography workshops, traditional uses of plants, knowledge of certain plant groups, etc.

• Guided visits to know the contents of the different botanical gardens.

• Permanent workshops with groups that can observe the dynamics of gardens at different times of the year.
El Jardín Botánico Dunas del Odiel se ubica en el monte del mismo nombre, frente al Paraje Natural de las Lagunas de Palos y las Madres. Su objetivo es representar la flora y vegetación característica del Sector Biogeográfico Gaditano-Onubense y Algaviense; un arco costero de 20 a 30 km. de anchura comprendido entre la desembocadura del Guadiana en Huelva y los acantilados de Barbate en Cádiz. A lo largo de su sendero nos ofrece la posibilidad de conocer la estrecha interacción existente entre el paisaje vegetal y las características climáticas y geológicas del litoral atlántico andaluz.

Los arenales costeros dominan las formaciones y la fisionomía del jardín. En un breve espacio, podemos observar el papel que juegan las plantas amantes de la arena (psamófilas) en el proceso de fijación de las dunas. También, como ocurre en su entorno, la marcada influencia litoral se enriquece con la presencia de otros elementos que diversifican el paisaje vegetal; el agua irrumpe bajo distintas formas (arroyos, lagunas y encharcamientos, lucios de marismas, etc.) dando lugar a otro tipo de plantas con estrategias y adaptaciones diferentes.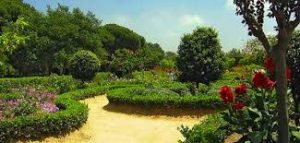 Dunas del Odiel es también un centro de conservación de flora que cuenta entre sus colecciones vegetales vivas con buen número de especies considerados amenazadas o de especial interés. Entre ellas hay muchas plantas únicas de este sector (endémicas) o "raras" y difíciles de encontrar, que aquí tenemos la oportunidad de conocer en detalle.
No faltan en el jardín espacios reservados para mostrar nuestra relación del hombre con las plantas a través de los usos que tradicionalmente ha hecho de ellas (plantas medicinales, cultivos tradicionales etc.) que suponen sin duda un bien cultural insustituible.