Al-Quds, botanic garden, Palestine
Presentation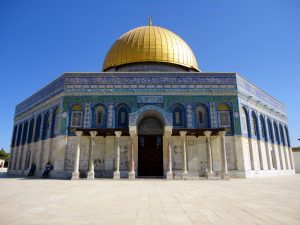 In Jerusalem, the millenary sacred city, meeting point of the three monotheistic religions, Al-Quds University is setting up the Botanic Garden of Jerusalem, whose main feature is the andalusi style garden.
FUNCI has been cooperating since 2009 in the set up of this 2000 square meter botanic garden next to the Science and Technology School. It has done so through collection and cultural content assessment as well as through collaborating in its international projection.
The Andalusi Garden recreates the collections, philosophy, morphologic characteristics and traditional watering systems of the time. In addition, it focuses on preserving the Mediterranean flora and, specifically, the Palestinian. A botanic library, a seed bank and a herbarium are projected. The library's funds will focus on science history in al-Andalus, which greatly influenced the Western world through the spread of its treaties from European Translation Schools, thus setting the Renaissance basis.
Process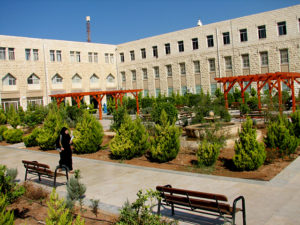 Al-Quds University with FUNCI's support has started the Andalusi Garden, placed in Jerusalem's Botanic Garden, which has recently been created and is still unfinished. The Andalusi Garden has five fountain basins with springs; one of these fountains is in the central area and is surrounded by two ponds, and four are set in the main lawns. These four lawns symmetrically frame the central setting, while another six smaller side-lawns edge the garden. The sprinkling watering system has been set up.
Currently, the engineers of the Al-Quds University, under Med-O-Med expert committee surveillance, are designing minor works such as benches or pergolas as well as the botanical and landscape design of the garden.
Botanical design
The botanical design for the garden is already done. and it was supervised by José Tito Rojo and Manuel Casares, from the University of Granada. 25 spieces of plants that were present in al-Andalus gardens, and also are present in the Palestine native flora will be introduced in the garden of Al Quds. Olives, Date Palms, Carob, Rosemary, Lavender, Thyme, and of course Myrtus are some of these species. In the first days of the spring of 2011 the plantation has started, and the first date palms introduced close to the fountains.
Some of the projected phases have been completed at the botanical garden, like the setting up of a rock garden, which contains native Palestinian species from the mountains and medicinal species. Seeds are being collected and the herbarium work using many species of the Palestinian flora is being developed.
Photographs
The Faculty of Science of Al Quds University in Palestine is developing an andalusi style botanical garden, with the introduction of mediterranean and palestinian plants, that will be equipped with several specialized facilities. In this garden Med-O-Med is collaborating through scientific and botanic advice.
Latest photographs May 2011:
Related news