The Botanical Garden of Al-Quds University, in Palestine, keeps taking its course. Within its facilities and in the framework of the Med-O-Med Programme, a garden of Al Andalus is being created: a garden in which various species used during the age of Al-Andalus and still present in the Palestinian autochthonous flora will get together.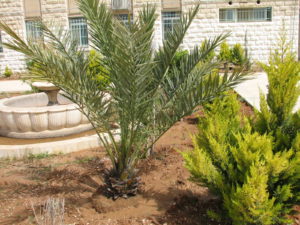 So, a first design of the aforementioned garden was made by a team of Al-Quds University headed by Khaled Sawalha, together with a Med-O-Med's Expert committee represented by José Tito Rojo y Manuel Casares, both Professors at the University of Granada and experts on Islamic gardens. Both experts worked on the recovery of the gardens of the Alhambra, among others. Such design previewed that this garden would bring together 25 species, including not only myrtle (a symbolic plant of the gardens of Al-Andalus), but also other kinds of trees and bushes such as rosemary, thyme, lavender, as well as olive, carob and palm trees.
At the beginning of this year's spring, all these species have started to be planted, starting by planting the palm trees. Over the following weeks, the rest of the species will be planted and other works will be carried out with a view to end the construction of the garden.
This post is available in: English Español