Qur'anic Botanic Garden (QBG), a member of Qatar Foundation for Education Science and Community Development (QF), and of Med-O-Med Botanic Gardens net, has signed a MOU with the Islamic Culture Foundation (FUNCI) to collaborate in bringing the AI Andalus Garden Exhibition to Qatar. The exhibition will be held at Katara Cultural Village in April 2018.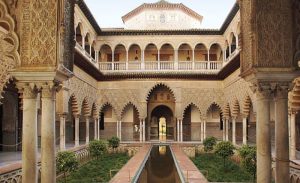 Created by FUNCI, AI Andalus Garden Exhibition is an expression of the peaceful coexistence among different cultures and of the respect for environmental and historical heritage through one of the closest aspects to the everyday life of people: nature and gardens. The exhibition previously toured with great success across several countries, including Spain, Morocco, Lebanon, Syria, Saudi Arabia and Kuwait among others.
QBG welcomed Encarna Gutierrez, Secretary General of the Islamic Culture Foundation, to Doha on 20 December to meet with Fatima Saleh Al Khulaifi, Manager of the Qur'anic Botanic Garden, to sign the MOU, strengthening mutual cooperation between both parties.
Since August 2015, QBG has been an active member of the Med-O-Med international development cooperation network of the Islamic Culture Foundation (FUNCI), which was established in 2009 by FUNCI in Spain. Med-O-Med, aims to conserve biodiversity as well as natural and cultural heritage in Muslim majority countries of the Mediterranean and the Middle East.
FUNCI is a Spanish, non‐profit, scientific and cultural NGO, and part of the Spanish Ministry of Culture's Register for the Protection of Cultural Foundations. FUNCI seeks to show the achievements of Islamic culture and civilisation not only from a historical viewpoint but also as tools that can help meet present and future challenges. Throughout its history, FUNCI has worked hand in hand with a large number of Spanish and international institutions.
Source: Marhaba
This post is available in: English Español