The Cultural Landscape Association (CLA) organizes  a Persian Cultural Landscapes Workshop and Tour on  Nov 17-23, 2018 in Iran. The Cultural Landscape Association (CLA) is a non-governmental and non-political, private organization located in Central Asia and Middle East. CLA is dedicated to study about cultural landscape, increasing the professional and public's awareness and understanding of the importance and irreplaceable legacy of cultural landscape. The CLA's activities include conducting research and holding specialized events, including workshops, conferences and scientific tours.
Med-O-Med Middle East and Mediterranean Landscape Convention
Mohammad Motallebi, Board Member of the CLA, has collaborated with Med-O-Med providing information concerning Persian Gardens Cultural  Landscape. Indeed, one of  Med-O-Med platform lines is Cultural and Landscape Heritage.This line of work aims at promoting the cultural landscapes of the Mediterranean and the Middle East, with the collaboration of UNESCO and according to the parameters set out in the European Landscape Convention by UNESCO and IUCN (International Union for the Conservation of Nature).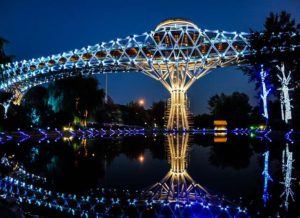 The concept of landscape is a transversal concept and a key management tool to support sustainable models of land management and to facilitate their preservation, reverting its economic impact to the local community. Likewise, it is a suitable tool to promote the meeting of cultures and to encourage coexistence and peace. Among the progress achieved, we can highlight the registration of Mediterranean and Middle East cultural landscapes sites, and the elaboration of the  Middle East and Mediterranean Landscape Convention, currently in the process of being signed by the Med-O-Med member countries.
Iran, Med-O-Med country member, is a wonderland of various climates and cultures where cities and villages are built in a complete harmony with climate. Indeed,  Iran is located within one of world's two mountain stripes and also one desert zone, it has become a desert-mountainous land with almost half of its area covered by mountains and one third of it deserts. Within Med-O-Med  framework, there are the following Cultural Landscapes registered: The Persian Gardens Cultural Landscape, Bam Cultural Landscape, Qanats, Khorramabad Valley and its Cultural Landscape, Kuh-e Khuaja Cultural Landscape, Izeh Cultural Landscape, Shushtar Historical Hydraulic System, and Uramanat Landscape.
Source: The Cultural Landscape Association (CLA)
This post is available in: English