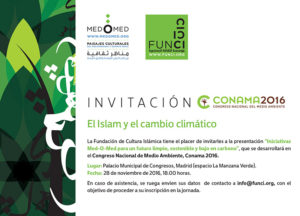 We are glad to inform you that our paper "Med-O-Med Initiatives for a Clean, Sustainable and Low-carbon Future" has been selected, among more than 400 proposals submitted, to be presented at the National Environmental Congress, Conama 2016.
This important event will include different workshops, debates, lectures and special activities. We will also be exposing a board with information about our platform "Med-O-Med, cultural landscapes of the Mediterranean and the Middle East".
We invite you to come to our lecture!
This post is available in: English Español