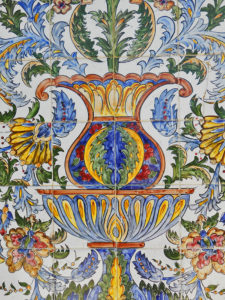 Algeria highlights for its pottery production, still little known. Here are two beautiful examples of tiles decorated with floral motifs.
The tiles of the main picture are made through a technique known as dry line in the early twentieth century and comes from the city of Tlemcen, in the west of the country. Displays a polychrome lusterware decoration .
These tiles, of the left picture, can be contemplated in the Hamma botanical garden in the capital, Algiers, and date from the same period. The colors are delicate, and the stroke, fine.
This post is available in: English Español