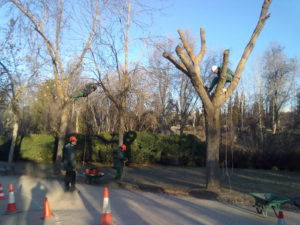 Last week, the Foundation visited the Natural Park el Soto in Móstoles, (Madrid), in order to get first-hand knowledge of the activities developed by the Tomillo Foundation, a close collaborator and member of Med-O-Med. Tomillo has been working for many years ago in this huge green space , which is also used for the enjoyment of the people living in the municipality.
Tomillo Foundation conducts several courses aimed to create employment. Concretely in this park, they provide a course specialized in gardening. We had the opportunity to see the pupils in a classroom located in the park, during the weekly Social and Labour Guidance session.
During the visit, they explained us  how the learning process of the course works. It basically runs for a year starting in May, it is now reaching the end. We could also observe some of the pupils working on practical tasks around the garden.
The course is part of the Employment and Training Public Programme, funded by the Regional Employment Service. The target groups are unemployed young people, aged between 16 and 24 years old. The course provides a professional qualification in gardening and nursery plants.
A proper training
The groups are formed by 16 pupils and two teachers, which is the ratio estimated to ensure a proper training. The course lasts for seven and a half hours per day, being one and a half entirely theoretical. The practical part is mainly based in gardening and different specializations such as pruning, phytosanitary treatments, irrigation systems implementation, draining and general maintenance of parks and gardens.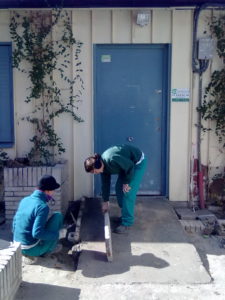 Pupils start the practical tasks in groups conducted by the teacher. As the course progresses, they gradually work in smaller groups. During the last part of it, the pupils are in couples, as a methodology for autonomy acquisition to carry out the different tasks.
A collaboration agreement between the Móstoles Council and Tomillo was signed, in order to allow them to use some areas in the park, whose maintenance comes from this formation programme .
In conclusion, our objective was to learn the work developed by Tomillo Foundation in the park as well as to create closer ties for future projects.
This post is available in: English Español