BG Albardinal. RAJBEN, SPAIN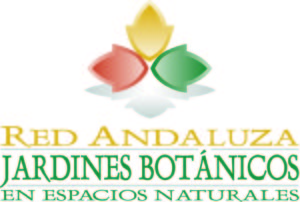 NAME Albardinal Botanic Garden and Micological network.
ADDRESS Fundición s/n Níjar (Almería). Spain.
WEBSITE HTTP://WWW.JUNTADEANDALUCIA.ES
EMAIL JBOTANICO.ALBARDINAL.CMA@JUNTADEANDALUCIA.ES
PHONE +34 697955244
OPENING HOURS Winter opening hours: Tuesday-Friday 9:00 am-14:00pm. Saturday-Sunday 9:00 am-14:00 pm and 16:00pm-18:00pm. Summer opening hours: Tuesday-Sunday y 9:00 am-14:00 pm and 16:00pm-20:30pm. Close: Monday (no holidays), 1st January, 6th January, 25th December, 31st December.
OWNERSHIP Public Institution.
DIRECTOR Environmental Planning Ministry (CMAOT). Carmen Rodriguez Hiraldo
FACILITIES Herbarium Arboretum Seed Bank Published Plant Catalogue Computer Plant Record System Sponsorship Programmes Shop Cafeteria Laboratories disabled access selected
AREA (IN SQM) 90.000
NUMBER OF SPECIES 531
COLLECTIONS Albardinal Botanical Garden collection has about 531 taxa (435 indigenous species, 59 exotic species and 37 horticultural). The Albardinal Botanical Garden represents the natural flora and agriculture of the semi-arid zones of eastern Andalusia. This collection let the visitor to observe almost all forms plants adapted to drought. Indeed, it is an exceptional place to know species unique in the European continent (Iberian-African endemism) that show the common geologic and biological past of the southeast of Andalusia and the African continent.
CONSERVATION PROGRAMMES
• Identification and monitoring of Flora: rare, endemic and threatened species.
• Collection of seeds and other propagules.
• Representation of the fungi and plants of the Andalusian biogeographical sectors.
• Preservation of collections and genetic rescues.
• Recovery and Conservation Plans of catalogued species
RESEARCH PROGRAMMES Almería University Collaboration within the Salt Garden project
– Updating the contents of the Diplotaxis siettiana file included in the next publication of "The TOP 50 Mediterranean Islands Plants" (IUCN).
-Cession of seeds of Medicago truncatula and Medicago marina produced in the garden for studies carried out by CSIC of Granada.
-Project SAFA (SEBICOP)
EDUCATION PROGRAMMES The main educational actions carried out are the following:
1) Training courses for professional sectors requiring technical training on threatened flora
2) Activities and workshops as an instrument for raising awareness about Andalusian flora values: photography workshops, traditional uses of plants, knowledge of certain plant groups, etc.
3) Botanical gardens guided visits
4) Permanent workshops with groups to observe botanic gardens actions during different times of the year.
5) Training of trainers for educators: it is very important that teachers acquire the knowledge and value of a botanical garden as a didactic resource in order to facilitate their students' involvement.
6) Dissemination of the Andalusian flora values through initiatives such as the "Plant of the month", dissemination of news.
The Albardinal Botanical Garden is found in Rodalquilar, an old mining town located within the Cabo de Gata-Níjar Natural Park. Its name comes from the "albardín" plant, which similar to esparto grass and adapts perfectly to harsh and drought conditions.
BG Albardinal. Andalusian Botanic Garden and Micological network This area, declared the first marine-terrestrial natural park of Andalusia in 1987, protects one of the most beautiful coastal strips within the Mediterranean.
Indeed, it has been recognized as a Special Protection Zone for Birds (ZEPA), a Biosphere Reserve, Geopark, Specially Protected Area of Importance for the Mediterranean (ZEPIM) and a Special Area of Conservation Natura 2000 (ZEC).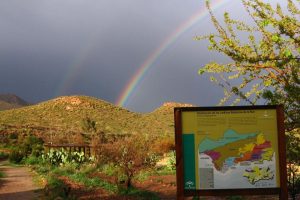 These recognitions are exceptionally important, taking into account that, despite being the most arid enclave in Western Europe, it presents an enormous geo and biodiversity, with very peculiar animal and vegetal life forms.
This Botanical Garden is a representation of Almeria's biogeographic flora, which includes threatened and exclusive species from Cabo de Gata's volcanic mountain, the subdesert of Tabernas, Sorbas' karsts and the coast's flora, among others species adapted to extreme environment conditions.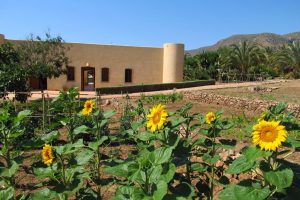 The mosaic of landscapes integrated within this garden reminds us of the importance that the traditional use of the territory has had in the conservation of this fragile natural environment. In it, you can enjoy jujubes, palmitares and artineras, which precede the romerales and espartales. Further on in the route, the tomillares and grasslands take the visitor up to crops and fruit trees.