The year 2021 is coming to an end, and with it, the first quarter of this academic year at the School of Gardening Med-O-Med – Bouregreg. Step by step, we are pleased to see how the gardening school in Salé (Morocco), its training program, extracurricular activities, the park and plant production are evolving and taking root. The new CAP (Professional Aptitude) students have brought in fresh sap, while the first promotion has graduated. In a nice and emotional ceremony held outdoors together with our friends and close collaborators, certificates and diplomas were handed over to the successful trainees (fortunately many).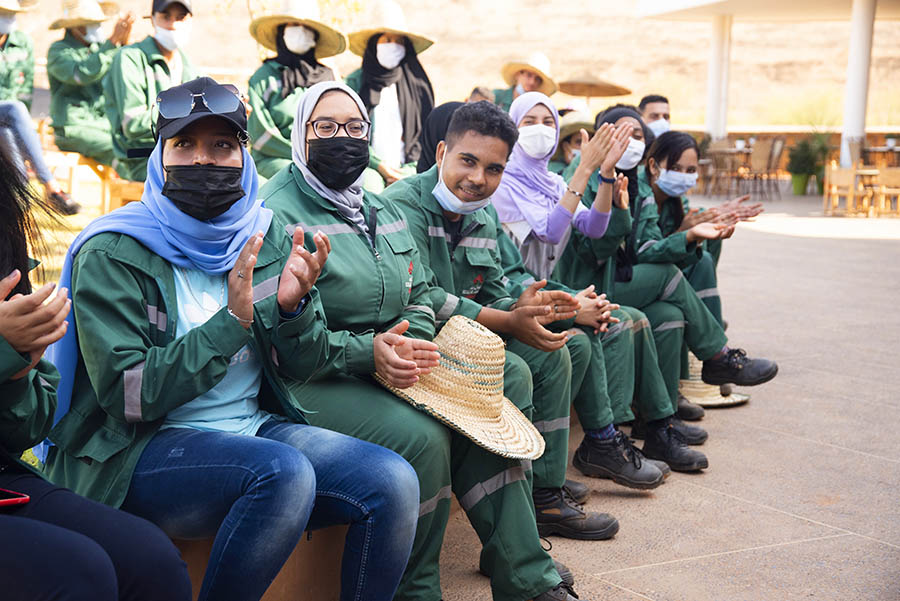 Some of the graduates are already working, both in Salé and Rabat, as well as in Marrakech, in particular in the Majorelle garden, and with an advantageous contract, which fills us with pride. Several are employed at the school itself. Among them Fatima Zohra, soul and keeper of the nurseries, Fouad and Abdellatif, who contribute to the theoretical and practical training (20% and 80% respectively), supporting the Spanish teachers, and Meriam, who is taking care of the boutique.
Labor integration
We know, however, that finding a job at the level desired by the school, after three years of quality training, will not be easy. For this to happen, mentalities must change and skills must be valued in a profession traditionally considered marginal and therefore poorly remunerated. And this despite government guidelines that promote rigorous professional training and a dignified and formal insertion.
Some students of the graduates are already working, both in Salé and Rabat, and in Marrakech, in particular in the Majorelle garden, and with an advantageous contract.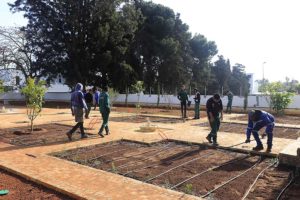 But at the school, we don't let our guard down and we don't give up – we are up to the challenge! Thus, a whole program of environmental awareness activities has been launched to promote the conservation of biodiversity and the creation of landscaping models adapted to climate change and the cultural specificities of Morocco. And for this, qualified and well-trained manpower is essential. Collaborators such as professor Zineb Benrahmoun Idrissi, "mother" of permaculture in Morocco, landscape designers Mounia Bennani and Frédérique Levesque, and soon, the writer and gardener Umberto Pasti, champion of the conservation of Moroccan flora, have given and will give workshops and lectures to the public on this issue.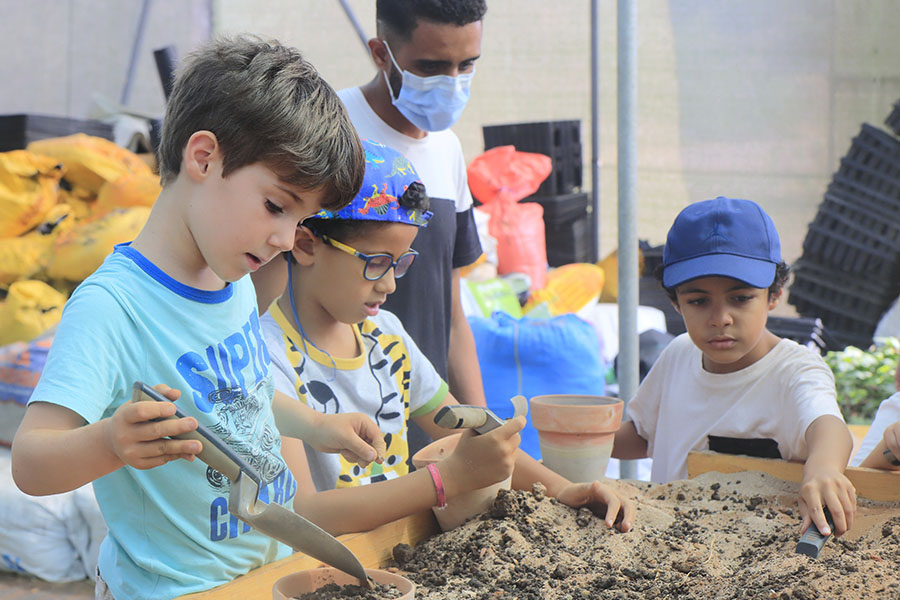 Moreover, in line with the environmental awareness that we advocate, many students from the National School of Architecture (ENA) in Rabat are visiting the school. Annual workshops for children and adults on agroecology have also been launched, with the help of two expert collaborators, Rachida Mehdioui and Elisabeth Haiti. At the same time, the school is creating its own vegetable garden, and the apprentices have done their ornamental garden exercises for the gardens in which they occasionally perform services. In Andalusian and Maghrebi culture, and increasingly in today's landscape models, gardens are accompanied by small orchards that lend their scents and colors.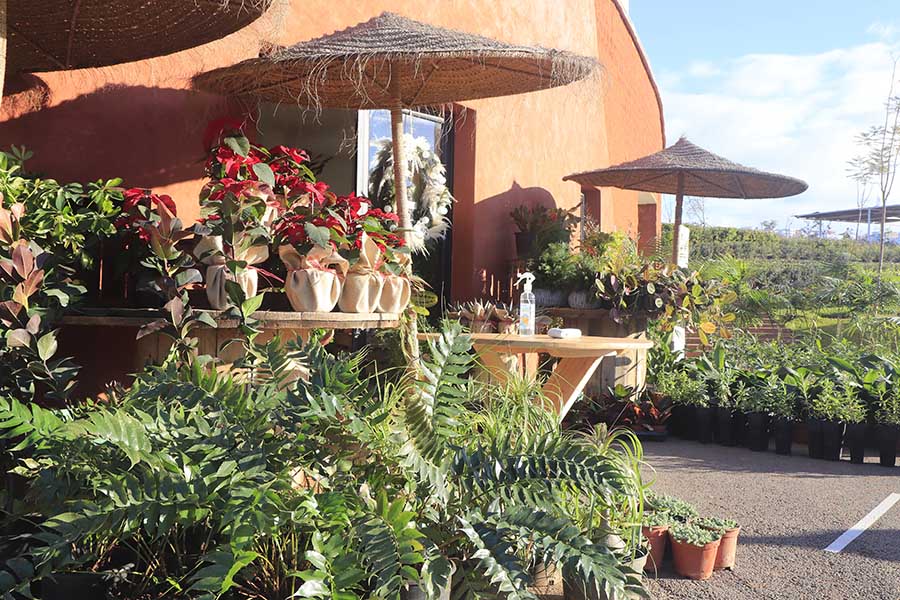 Another of this year's additions has been that of the trainer Ander Salazar, from the Basque Country, who has turned out to be a wonderful teacher and a good landscape designer. Thus, from time to time, the school offers some gardening and design services to eventual clients, which enriches the quality of the training of the students and generates small economic contributions.
Towards economic sustainability
The environmental sustainability of the project is assured, but the school also works for its economic sustainability. To this end, we make use of the school's spaces: a multipurpose hall, regularly used by companies and international organizations for their events, a beautiful open-air amphitheater, which has hardly been used due to health restrictions, the store, which the company Végétal Concept has filled with plants and appetizing objects, and the wonderful Azafrán restaurant, headed by Chef Youssef.
A whole program of environmental awareness-raising activities has begun to promote biodiversity conservation and the creation of landscaping models.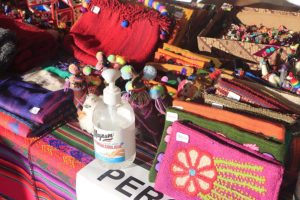 On December 5, the Diplomatic Circle organized a flea market in the open-air premises, which made it possible to sell numerous objects from 24 countries, as well as plants produced at the school and coming from some generous donors, such as the Chevalier nursery. The funds from this massive bazaar will go to Moroccan NGO projects, as well as to support the school itself. An excellent exercise in organization and involvement for the apprentice.
The plant production center is progressing at a very good pace, although the plants require their own time and cycles. Its particularity is in ornamental plants as well as native and endemic plants of this country, whose plant diversity is overwhelming. It is also part of the nursery training, while another specialization is floristry, at the hands of Végétal Concept, which also contributes to improving the integration of students by helping them to create their own cooperatives and their status of "auto entrepreuneur" (which is equivalent to self-employed).
Synergies and exchanges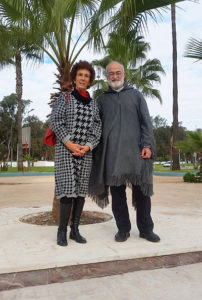 During this quarter there have been several illustrious visits accompanied by very interesting lectures/discussions, in which the third year trainees have actively participated. One of them was the famous medical biologist and essayist Asma Lamrabet, who gave a dissertation on gender issues in Islam. Another was Cardinal Cristóbal López Romero, an expert on formation and social issues. Cardinal Cristobal responded with a great sense of pedagogy to the many questions that the kids asked about the differences and similarities between monotheistic religions.  These talks undoubtedly contribute to the open-mindedness of young people and encourage free debate.
During this trimester there have been several illustrious visits accompanied by lectures/discussion in which the trainees have actively participated.
In addition, synergies with other associations and institutions are numerous. In November, a group of apprentices voluntarily planted olive trees on a farm in Fez as part of the "L'Olive au Coeur" festival organized by the AMESIP association. IRD Maroc also gave a talk on biodiversity and set up a small exhibition on biodiversity in the courtyard.
Acknowledgements
But all this would not be possible, as we never tire of saying, without the valuable help of our partners: the AAVB and the Ministry of Vocational Training, as well as the institutions that support the project: INDH (National Initiative for Human Development), Regional Council of Rabat, Salé, Kénitra, AECID (Spanish Agency for International Development Cooperation) – which this year provided a substantial grant, and to which we are extremely grateful -, Drosos Foundation, with its great contribution, as well as the Fondation Luciole, the French Embassy in Morocco and the transport company ALSA.
Thanks again to all our partners, and our appreciation to those who preceded the current great team: Mikel, Enrique, Cisco and Abdou. We miss you very much, but we keep on adding up!
And finally our special thanks to the president of FUNCI and mentor of this project, Cherif Abderrahman Jah, for his valuable and tireless drive and his always wise advice.
Inés Eléxpuru – FUNCI
This post is available in: English Español