The National Environmental Congress (CONAMA) has been held once more in Madrid. The Islamic Culture Foundation within the Med-O-Med framework took part once again this year.
The core topic of this important biennial event mainly related to sustainability issues was the economic challenge from a sustainable approach. Therefore, special attention was paid to the economic aspects in the different sectors, not only concerning the link with the sustainable development, but also discussing about the potential ones, which could contribute to generate employment and enhance the economy. Other subjects such as energy, biodiversity, waste management, mobility, water, green technologies and environmental education were also treated through debates, technical sessions and workshops.
In this occasion we were presenting 5 posters in which our main projects and activities within the Med-O-Med programme were explained and illustrated. Furthermore we have published an article regarding our activity in Morocco: "The Med-O-Med programme, cultural landscapes of th Mediterranean end Middle East in Morocco.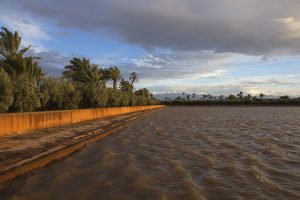 We aim to bring our experience regarding biodiversity conservation, natural heritage and environmental education, trying to alleviate the lack of resources existing in our target areas and always with a deep respect to the community's cultural identity. Our work is based in the great heritage left by the Islamic Culture Foundation and its devotion to the nature as well as its wise resources management and use.
You can see the posters in the links below:
El jardín islámico. El Agdal de Marrakech.
El programa Med-O-Med paisajes culturales del Mediterráneo y Oriente Medio. 
El agua en al-Andalus, "Voces Sabias"
This post is available in: English Español