Several members of the working group set up within the framework of the Med-O-Med Programme for the restoration of the historic Agdal garden in Marrakesh, have travelled to this city from 9th to 11th October. The Agdal garden dates from the 12th and 13th centuries and it is considered with over 500 hectares the most important one from the Almohad period.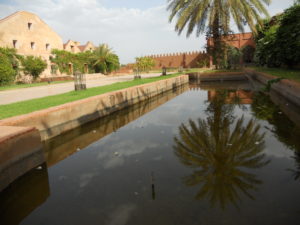 The working group that was this time in Marrakesh consisted of the following members: Antonio Almagro, architect, and Julio Navarro, archaeologist, both belonging to the School of Arabic Studies (CSIC), Néstor Martínez, Technical Supervisor  at FUNCI,  Imane Thami, Project Manager at INRA (National Agricultural Research Institute of Rabat), and Faissal Cherradi, collaborator of FUNCI  and expert on Moroccan heritage.
This is the second prospecting trip carried out by the Med-O-Med technical team since the restoration agreement was signed between FUNCI, the Regional Council of Marrakesh-Tensift-Al Haouz, the INRA and the Mechouar Kasbah Municipality. In this opportunity, the group visited both the sites within the walls and the external perimeter, which includes the gunpowder warehouse from Alaouite period, the gunpowder factory, the hamman (or baths) of the Black Sultan, the walls, the qanats (water structures) and the ponds.
The technical visit was used to determine the specific points of degradation, the hydraulic infrastructures as well as the state of conservation of the different stretches in the exterior walls, before a report is drawn up on the results of the preliminary studies and guidelines to follow during the first intervention.
This post is available in: English Español