Hoya de Pedraza. RAJBEN, SPAIN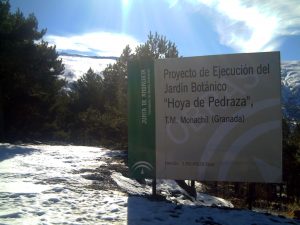 Hoya de Pedraza Botanical Garden is located in Granada's access to Pradollano ski resort, 30 minutes away from the city. It is named after the public mount where it is placed. The mount, in turn, receives its name because of the traditional practice of growing crops in the mountain for subsistence. La Hoya (a wide valley) was a gently sloped area or with a flat hillside, with water supply and an optimal fertile soil.
In both the natural space of Sierra Nevada and in the limiting area between the National Park and the Natural Park, the visitor will be able to walk through two different vegetation zones: the calcareous and the siliceous vegetation. They represent the areas of the garden: the Biogeographic Sector Alpujarreño-Gadorense and the Biogeographic Sector Nevadense, respectively.
The Alpujarreño-Gadorense Biogeographic Sector expands through the lowest coasts from the natural and historical area of the Alpujarra, relative to the provinces of Almeria and Granada, and to the mountains parallel to the sea: from Almeria's surroundings up to Motril (Gádor y Lújar-La Contraviesa).
The Nevadense Biogeographic Sector is characterized by its acid soil. It spans throughout la Sierra de Los Filabres and almost the entire area of Sierra Nevada.
This vast and diverse area offers to the visitor the opportunity to see completely different plant specimens and vegetation formations, some of them directly related with artic flora and alpine-artic; and other ones that crossed the arid and dry area of North Africa, which covers the Mediterranean.
Hoya de Pedraza Botanical Garden is located in Granada's access to Pradollano ski resort, 30 minutes away from the city. It is named after the public mount where it is placed. The mount, in turn, receives its name because of the traditional practice of growing crops in the mountain for subsistence. La Hoya (a wide […]