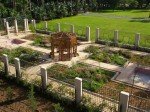 It is a cross-shape garden with water reservoirs at the ends, basin fountains with springs, watering lines around the perimeter of the lawns, central arbour with a plant pavilion and plant pergolas and arches. This closed type of patio-garden, in line with the hortus conclusus of Semitic tradition, has been the accepted choice as it is the most representative of al-Andalus gardens and because it creates an intimate environment with respect to the larger and lush Jardin d'Essais, which tends to minimize any new introduction. The simulated architectural setting that borders the garden has mainly been done with plants that define spaces inspired on those of an andalusi house or palace.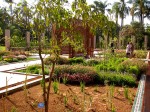 The 50 meter long by 20 meter wide garden is rectangular in shape and is North-South oriented. At the far ends it has resting areas with benches enclosed by plant wall-like elements made by cypresses and climbing shrubs that grow up light pillar structures and metal nets, simulating rooms of a house. The sites of the resting areas, which simulate relaxation rooms of a house, have pergolas that create shady spots where comfortable benches are placed. Opposite these areas are lobby-type porches made of rambling plants, mainly rosebushes, which grow up metal structures. A small square plaza has been made in the centre of the cross-section with an arbour made of wooden latticework and benches placed within.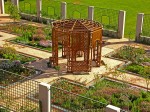 The watering system is that used traditionally in medieval gardens and vegetable gardens. Lawns are watered using surface or flood irrigation systems, making canals, basins and fountains functional as well as decorative.
Lemon trees enclose the Myrtus tree hedge that surrounds the gardens. The common line of fruit trees in the hipanic-islamic patios was made here using olive trees. There are several pomegranate trees, bitter orange trees and Judas trees surrounding the central reed arbour.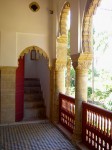 Next to it has been restored an old-style neomorisco recreation pavilion , probably built in the nineteenth century and later renovated in one of its facade at the French protectorate following Western standards. It has three floors. North facade shows typical Moroccan architecture, with an arched covered balcony with  poly lobed sandstone arches, while the South shows large holes and European-style windows, no doubt designed to let in light and sun.
The interior consists of small rooms and and bedrooms, with a reception room on the top level, floored with traditional tiles and topped by a coffered ceiling of cedar wood.