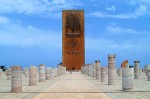 In 2009 Islamic Culture Foundation (FUNCI), within the Med-O-Med Program, in collaboration with the INRA (Institut National de la Recherche Agronomique) and the Wilaya of Rabat-Salé-Zemmour-Zaër, started developing an andalusi inspired garden as part of the offer of the Jardin d'Essais Botaniques (JEB) of Rabat, a recently restored 16 hectare historic space conceived at the beginning of the 20th century by Jean Claude Nicolas Forestier.
In addition to considering an andalusi style garden and restoring a neo Moorish pavilion, FUNCI has collaborated in the rehabilitation of the JEB by assessing the landscaping and the botanical collections.
The andalusí garden, which has been made on the Northern area of JEB, is not a copy of any specific garden. It is a synthesis, with some Almohad influences, of the stylistic, philosophical and scientific meaning of a garden of the time of Al-Andalus.
The garden has been made within one of the large sites of the Jardin d'Essais, next to the neo Moorish recreational pavilion from the early 20th century. The pavilion has been restored by FUNCI within the Med-O-Med Program and the idea is to generate a setting for study and spreading of culture, a showcase garden of andalusi space concepts, water and plant use. The site would also have a vegetable garden where the common al-Andalus species would be grown, including vegetables, fruits and other plants to which economic and decorative uses were given. Thus, the practical and sensorial and spiritual duality present in andalusi cultivated areas and gardens have been recreated, as told by agricultural and poetic texts of the time.
The architect, Antonio Almagro, from School of Arabic Studies (CSIC) of Granada and the agricultural engineer, Esteban J. Hernández, from the University of Cordoba have done the Project.  Faisal Cherradi and Néstor Martínez, from FUNCI (Islamic Culture Foudation), have collaborated in the Managment Direction.